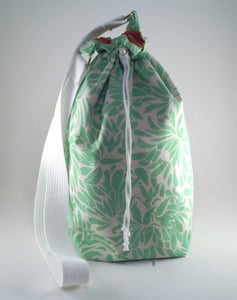 $

25.00
An organized tote for spinning on the go! This spindle-and-fiber tote is named for my friend Kelli (Knitterbunny) who gave me a wish-list for her ideal spindle bag!
The exterior is "Daisy Bouquet" in Natural from Amy Butler's Daisy Chain fabric line, the lining is a burnt orange. Seams are sergered for a professional finish and durability.
The top is secured with a drawstring and cordstop to keep your spinning stowed safely inside. The cotton webbing strap can be worn over the shoulder, tied off to carry over the wrist or clipped to a belt loop (clip not included). The interior features a generous pocket to keep your spindle contained, but it's close enough to your fiber to prevent the drafting from pulling apart.
Bag measures approximately 12 x 5 x 5.5 inches (30 x 13 x 14 cm), and I packed over 7oz of fiber in the bag in the second picture! It is shown with an 11" (28cm) tall Schacht spindle.
This bag would be an excellent gift for a new spinner, to carry your own fabulous work-in-progress, or by adding fiber, a spindle, and book of your choice, a wonderful learn-to-spin gift for a friend or Secret Pal!
(Please note, the last two pictures are stock photos and do not represent the fabric of the bag for sale. Spindle and fiber are shown for reference only and are not included with this bag.)
Shipping
Item ships from: Michigan, United States
ship to:
• United States: $3.00 ($0.50 if shipped with another item)
• Canada: $3.80 ($1.00 if shipped with another item)
• Everywhere Else: $8.00 ($1.00 if shipped with another item)
NOT SEEING A FABRIC YOU LOVE? Check out my other store at www.julipbags.etsy.com