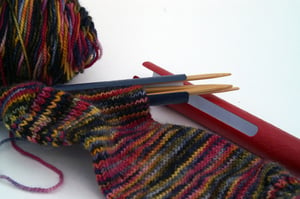 $

6.00
DP Wip Tube™ - A solution for holding and protecting your valuable and delicate Double Pointed Needles while they are still connected to your project! They consist of strong, rigid, paper telescopic tubes with closed ends. Their 5/8" inside diameter is wide enough to hold your needles and your knitted project.
The tubes can extend to hold 5" to 10" long needles.
(Made by Nancy's Knit Knacks)
Please note - if you also purchase a bag from the Etsy store, your shipping will be refunded 100% on this item!
ship to:
United States $3.00 USD $0.50 USD (with another item)
Canada $3.80 USD $1.00 USD (with another item)
Everywhere Else $8.00 USD $1.00 USD (with another item)